Tuesday, March 18, 2014
Hey, is this thing still on?
Posted at 06:26 pm by Puff



Wednesday, July 21, 2010
Please can we blog now? Yeesh, what do I have to do? OK, here we are.
Nothing new around here. It's hot. Hot and humid. I'm the only one who likes the AC, Spot and Jake are lying in the kitchen sweating. Maybe not sweating, but you get the idea.
Blackitty & Petunia are still here, Blackitty is getting pretty friendly, I think Mom even may have kissed him! Cheater!
We checked out the Peeps site William posted in the comments! Mom loves the Captain Sully peep the best. My beans didn't do a peeps diorama this year, but they are keeping Peeps in Space in mind for next year.
Soft Kitty, the song is from the TV show "The Big Bang Theory", we watch it every week. Sheldon's mother used to sing it to him when he was sick. But I have to warn you, if your mom sings it, she may never stop. It's that kind o song...
Well, that's about all the news for now, you know no news is good news. I'm hoping to get Mom in gear so we can blog a little more often. Maybe I'll leave a trail of M&M's to the computer...
Posted at 11:09 pm by Puff



Tuesday, March 23, 2010
My mom's convinced that the song "Soft Kitty" was written about me. Great, now I can't get it out of my head.
PS: Yep, Mom made the mousie, but not for us! I think she's going to give it to a little bean she knows.
Posted at 06:17 pm by Puff



Saturday, March 13, 2010
Will I ever be able to let my guard down around this place?
Posted at 11:59 am by Puff



Tuesday, February 23, 2010
I had my stiches out and everything is going well. The beans kept me cooped up in the Randy Room for another couple days and then released me back into society.
I'm spending my days catching up on snuggling with my brothers. You never know how much you're going to miss your boys! Oh, and this morning I snuck out the front door when Dad was going out to his car. Mom didn't even realize it until about 10 minutes later when I had to mew pitifully just to get back in! And it was raining too! Hurrumph!
We have lots of changes around here. No more dry food. I love my dry food too! Mom does sneak me in a couple pieces of Blue Spa Wilderness once or twice a day But it's usually Wellness and Fancy Feast canned food for now. Spot gets a little pumpkin in his food too. I've even lost a little weight! Mom says I'm svelte!
We're also still using the paper pellet litter. It's not so bad I guess. At least it doesn't stick to our paws and get all over the place.
Posted at 12:22 pm by Puff



Thursday, February 11, 2010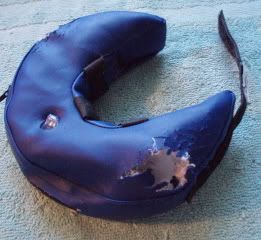 I killed it, deflated it and everything. I am the Puffinator, destroyer of all things. Hehe, Mom says it cost $40.00!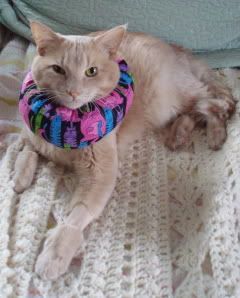 Wouldn't you know my mom made a new one. She's all proud of it too. I have a feeling she's gonna make me wear it the rest of my life....
Posted at 03:15 pm by Puff



Friday, February 05, 2010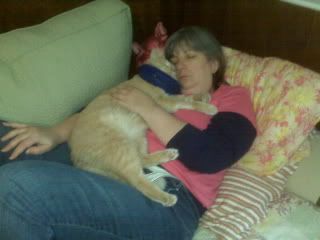 That stupid collar was just long enough so when I tried to clean my stitches area, it was rubbing against it. So I had some bleeding and straining in the litterbox again. Mom and Dad packed me off to the emergency place. They cleaned it up and gave me some fluids.
They also suggested a soft collar, which we were able to get right next door. See it? It's inflatable, like a pillow a bean would use on an airplane! And it's much better than the big hard collar. I can eat and drink much better now. And it's way much better for taking a nap on my mom!
Hey guess what? I have a rep at the emergency hospital! Today my doctor said one of the other doctors told him, "Puff is a handful". Hehe, handful. Remember when I went all Puffinator? Anyways today's doctor said I was a mush. A mush, hrrumph...
We thank everyone for their well wishes. Your purrs mean a lot. Mom says they hel her when she worries about me. Moms!
Posted at 09:20 pm by Puff



Thursday, February 04, 2010
Puff came home on Monday, earlier than was expected! He's doing well, but becomes cranky at times. I don't blame him, he's got to wear a giant collar so he doesn't pull out his stitches and we've got him confined to one room. And he's got different kitty litter! Paper pellets again. I like the Petsmart recycled paper litter, but it doesn't clump so I basically have to replace the whole box every day.
He's eating and drinking and peeping. He gets two medicines a day for a little while. The collar is the worst part. We do take it off for a while and watch him, so he can groom himself. Cause you know he's fastidious!
Spot's doing pretty well too. We made some changes to his diet, no dry food for anyone. Spot's also getting canned pumpkin and a little miralax. It seems to be helping.
Poor kitties! But we think they're on the way to recovery!
Puff's Mom
Posted at 07:43 am by Puff



Friday, January 29, 2010
Puff's out of surgery and doing well. They have him on painkillers, so I imagine he's a little loopy. I hope that means he's not so scared. He should be home by Monday.
Spot seems to be doing well too. We're still keeping him separate from Jake because we have to make sure what's going in is coming out.
Posted at 08:55 pm by Puff



From Puff's Mom:
Although we haven't posted in a while, everthing's been fine around here. Up until yesterday.
To make a long story short, Puff couldn't pee and Spot couldn't poop. There must be a certain irony there. We took them to the vet last evening and they both came home. They removed a small blockage in Spot(how they did that, we didn't want to ask). He seems much better, but we have to keep him separate until he poops.
Puff's bladder wasn't distended last night, so they gave him an antibiotic and sent him home. He got worse during the night and didn't peep a drop. By this morning he was obviously in pain. So we carted him off the the large emergency hospital. He's blocked again, and they'll be doing surgery, hopefully today.
We opted for the surgery because this is the third related issue since last May. It's awful seeing him so umcomfortable and not his usual affectionate self.
Please keep your paws crossed for him. Of course we're very worried, but we know he's in the best hands. We should hear from them later.
Posted at 11:30 am by Puff