Tuesday, November 17, 2009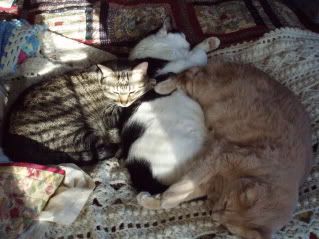 Mom calls this a Spot Sandwich.
Posted at 03:42 pm by Puff



Well, the Killer Tomato didn't eat any of us, but Mom's been pretty lazy about the blogging thing lately.
Things are about the same around here, but Mom did pack me off to the vet a couple weeks ago. I had cystitis, but thankfully I didn't have to stay, just take some horse pills. Mom had to break them in quarters for me. And of course she's been watching how much water I drink, moms!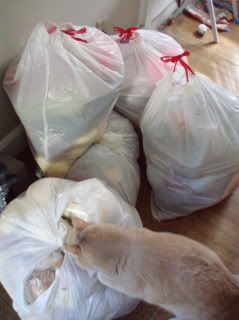 Not my best side, but I'm exploring some yarn my mom's friend brought over. Mom's been making some scarves and blankies for the Knit-Your-Bit program and her friend gave her all this yarn! That should keep the old girl busy for a while!
Spot and Baby Jake are doing well, and say Hi to everyone. Spot's cuddled upp on the bed right now and Jakie's runnin around like a lunatic! Hmmm, that looks like fun! Maybe I should join him!
Posted at 11:34 am by Puff



Monday, August 17, 2009
Attack of the Killer Tomato!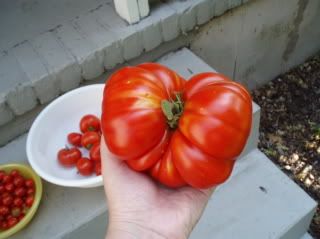 My mom's hand got attacked by this giant tomato! No beans were harmed, but the tomato got sauced!
Posted at 08:22 am by Puff



Monday, July 13, 2009
Who says kitties don't have a sense of humor? One thing about my mom, the house could fall down around us in squalor, but we kitties always have clean litter boxes. And since I had my blockage, she's been cleaning them completely twice a day.
So we have 5 litter boxes, but no one ever uses the one with the pine scented corn litter, so there are really 4 we use. Since Mom cleans the boxes at 7:00am and then again around 6:00pm, sometimes there's not a whole lot in them. But just to keep the old girl busy, we make sure to have even just a wee bit of wee or a teeny tiny poop in all 4, even if we have to put the squeeze on baby Jake.
Then we sit upstairs and snicker. I think she's on to us, though. Yesterday, we made our deposits all into one box, so to speak, then scratched around in the others to make it look like we used them. Hilarity ensued...
Posted at 05:46 pm by Puff



Thursday, June 25, 2009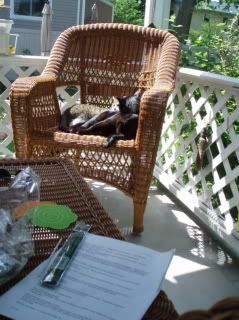 Mom was sitting on the porch knitting, and Petunia and Blackitty joined her. There hasn't been much sun this summer at all, and this was one of the few times the sun broke through the clouds.
Posted at 09:23 am by Puff



Wednesday, June 03, 2009
Hi everyone! I'm feeling much better and things are getting back to normal. I'm starting to knock things over again and hopefully I'll be breaking things soon.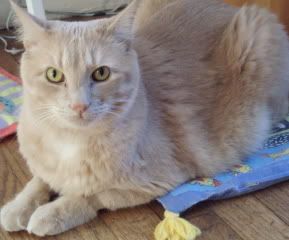 See my bracelets? I'm sure glad I didn't make fun of Spot's poodle cut a couple months ago!
Apparently the new normal however, includes my mom squeezing my bladder every 5 minutes and encouraging me to drink water all day long. Of course it would probably help if she actually knew where my bladder is.
That and the cat litter/litter boxes. William's post made me think to post about the litter situation. We switched off the wheat litter back to clay for Spot's asthma. Then one of the vets told Mom he should have pellet litter which is dust free. So Mom got recycled paper pellets, and then pine pellets. Except that she can't really tell when it's been peeped on, and it doesn't clump, making it impossible to scoop. Then there's the corncob litter. It's really lightweight and it clumps well. But it smells. Not badly, but it smells. Currently we have 5 litter boxes for 3 cats. Two of them are dishpans, which are a little smaller, but deeper, which makes them pretty good at resting the kickout. We kind of like them too, but I think Mom's gone a little over the edge...
Posted at 01:39 pm by Puff



Saturday, May 23, 2009
Well, I'm home and feeling much better. But I'm not 100% Puffinator quite yet. My hospital stay was horrific, horrific I tell you. They stuck a fire hose in my peeper! For reals, dudes!
I couldn't understand why Mom was abandoning me when I felt sick, I was so scared and locked in a jail cell! I was so happy to see Mom, that I mewed as loud as I could all the way home. Except for when I shut up for 5 minutes just to shake up the old girl. She kept trying to turn around and look at me and drive at the same time.
I had to stay in the little bedroom for a night just to make sure the plumbing was working OK. It's embarassing seeing to grown people get so worked up about a peeps. But Mom stayed with me all night and I practically purred her silly. I kept up the mewing for good measure too.
Mom keeps trying to make me drink water and they shove a pill down my throat twice a day, but it's better than being in the hospital, that's for sure!
Thanks to everyone for the good thoughts, they helped me and my beans too!
Posted at 08:51 am by Puff



Friday, May 22, 2009
Phew! Puff's home after 3 nights in the hospital. He went in on Monday night and they put in a catheter to remove the blockage and relieve his bladder. Lucklily there were no crystals or infection.
Apparently he went all Puffinator and removed his IV, so they had to sedate him again to replace it. He was traumatized by the whole hospital experience, not to mention the 30 minute car ride.
I picked him up yesterday afternoon and he was still pretty disturbed, but healthwise OK. We're keeping him apart from Spot and baby Jake for a couple days to make sure he continues to peep and drink water. Spot came in to visit for a while last night, and I think Puff appreciated that. He's still settling in.
Right now he's sleeping soundly, but wants to thank everyone for thier purrs and well wishes.
Puff's Mom
Posted at 08:12 am by Puff



Tuesday, May 19, 2009
Please think good thoughts and keep yours paws crossed for Puff. He's got a urinary blockage and is in the hospital. I noticed him having a problem last night and brought him to the emergency clinic.
I know they're taking good care of him, but he's scared. He did well overnight, but pulled out his IV and has been hissing and scratching people. Puff's usually very affectionate, so I know he's not feeling well. Hopefully he'll be home in a couple days.
We'll probably have to change his diet and cat litter(again). It's very quiet around here without him, so please send him some good mojo.
Puff's Mom
Posted at 10:11 am by Puff



Tuesday, May 12, 2009
The Master becomes the Teacher
In the last week or so I broke one of Mom's glass measuring cups, and her big sun-tea jar.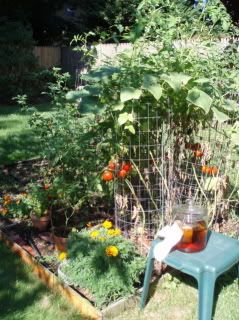 That jar wasn't easy for me to push off the counter, but I'm tenacious! I thought it was about time to pass on my craft to the other kitties. This morning Dad saw Spot push a box of tissues off his nightstand! Not breakable, but it's a start for sure.
Now I have to start training baby Jake, come to me Grasshopper...
Posted at 02:29 pm by Puff