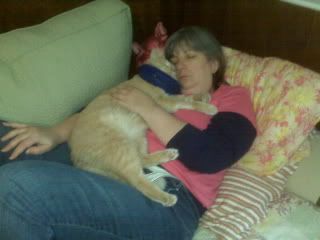 That stupid collar was just long enough so when I tried to clean my stitches area, it was rubbing against it. So I had some bleeding and straining in the litterbox again. Mom and Dad packed me off to the emergency place. They cleaned it up and gave me some fluids.
They also suggested a soft collar, which we were able to get right next door. See it? It's inflatable, like a pillow a bean would use on an airplane! And it's much better than the big hard collar. I can eat and drink much better now. And it's way much better for taking a nap on my mom!
Hey guess what? I have a rep at the emergency hospital! Today my doctor said one of the other doctors told him, "Puff is a handful". Hehe, handful. Remember when I went all Puffinator? Anyways today's doctor said I was a mush. A mush, hrrumph...
We thank everyone for their well wishes. Your purrs mean a lot. Mom says they hel her when she worries about me. Moms!